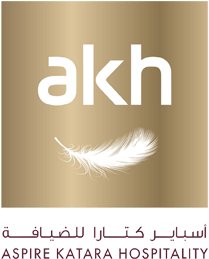 Invitation For Pre-Qualification Of Suppliers For Catering

 

دعوة لمرحلة التأهيل المسبق – في مجال خدمات تقديم المطاعم المختلفة للأحداث والفعاليات الكبيرة

 

تدعو شركة أسباير كتارا للضيافة مقدمي الطعام المؤهلين بشكل مناسب إلى تقديم عرض إبداء الاهتمام (EOI) لممارسة التأهيل المسبق لتوريد: خدمات تقديم الطعام المتنوعة للأحداث والفعاليات الكبيرة

 

يجب على مقدمي الطعام المهتمين تقديم ما يلي بحد أقصى بحلول الثلاثاء 29 سبتمر 2020

 

الباب 1: تجارب السابقة في مجال تقديم الطعام بالأحداث الدولية الكبرى:

تحديد اسم الحدث (الأحداث) والموقع (الأماكن).

عدد الوجبات المقدمة يومياً.

فئة العميل (العملاء) ومستوى الخدمة لكل فئة من العملاء.

بيان بقوائم الطعام المقدمة للعملاء خلال الحدث/ الأحداث.

 

الباب 2: المرافق القائمة

الوحدات المركزية من قبيل المطابخ، المخازن، أسطول سيارات نقل الطعام وغيرها…

قائمة المعدات الثقيلة من قبيل: مقلايات متعددة الأغراض (Bratt Pan) ، الغلايات البخارية (Steam kettles) ، الأفران الحرارية (convection ovens)، أفران الطبقات (Deck ovens)، غرف التبريد والتجميد (Walk in chillers and freezers)، و غيرها على ان يتم توضيح السعات والرسومات التخطيطية للمطابخ الموجودة بشكل مفصل.

نماذج صور من أدوات المائدة والأواني الفخارية.

الحجم بالمتر المربع والموقع.

سعة تحضير الوجبات الحالية يومياً (السعة المحجوزة الحالية للخدمات والسعة المتوفرة).

أرفاق صو وفيديوهات للمرافق الخاصة بالمشروع.

 

الباب 3: الموظفين

الملف التعريفي لموظفين الإدارة والهيكل التنظيمي.

عدد الخدمات مقابل طاقم موظفين المطبخ.

المخطط التنظيمي التفصيلي.

 

الباب 4: وثائق الشركة الرسمية

السجل التجاري.

الرخصة التجارية.

قيد المنشأة.

 

 

يجب إرسال جميع الطلبات عبر البريد الإلكتروني إلى info@akh.com.qa والتي تحمل وصف واضح تحت اسم  "EOI – التأهيل المسبق لمقدمي الطعام لمختلف للأحداث والفعاليات الكبيرة " ويجب أن تكون الطلبات المقدمة إلى الرئيس التنفيذي لشركة AKH كاملة وتتضمن جميع الأقسام الأربعة المذكورة أعلاه والتي تحمل وصف واضح لكل قسم. علماً بأنه سوف يتم استبعاد الطلبات الغير مكتملة 

 

 

 

 

 Aspire Katara Hospitality invites suitably qualified caterers to submit their Expression of Interest (EOI) for the pre-qualification exercise for supply of: Various Catering services for Large Scale events.

 

All submissions are to be emailed to info@akh.com.qa clearly marked 'EOI – pre-qualification of caterers for various large-scale events' and addressed to AKH CEO Submissions

Last day of the submission 29th. Sep. 2020

must be complete and include all 4 sections listed below clearly labeled. Incomplete submissions will be disqualified:

•          Section 1: Catering experience in past International/Large scale events:

◦         Specify Event(s) Name and location venue(s).

◦         Number of meals served per day

◦         client(s) category & level of service per client category

◦         menus served. 

◦         Images of your service setup and food offering must be included.

•          Section 2: Existing facilities

◦         CPUs, Kitchens, Storage, fleet, etc.

◦         List of heavy equipment i.e. Brat Pans, Steam Kettles, Convection Ovens, Deck Ovens, Walk in Chillers and Freezers etc. with capacities and preferably existing kitchen layout drawings.

◦         Photo of existing cutlery and crockery.

◦         Size in square meters and location

◦         Existing meal capacity per day (current booked capacity and free capacity)

◦         images and videos of your facilities to be included.

•          Section 3: Staff

◦         Management staff profile and chart.

◦         Number of Service vs. Kitchen staff.

◦         Detailed organization chart.

•          Section 4: corporate documents copies:

◦         Commercial Registration

◦         Trade License

◦         Computer ID.